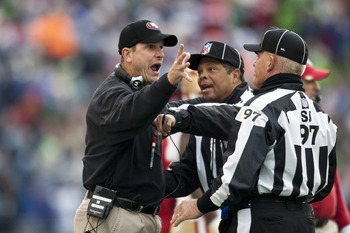 It appears 49ers coach Jim Harbaugh either got some aspirin, or a phone call from New York.
Two days after saying some
"crazy, wild calls" gave him a "headache,"
Harbaugh was in a more conciliatory mood Monday.
"What seems like a big deal Saturday night, here Monday is not a big deal," Harbaugh said, via Cam Inman of the Bay Area News Group. "We're concentrating on Monday and what we can get out of this day. Making this practice and these meetings the best possible that we can have, and have had, in our training camp, with so much to do."
Now, it would be downright diabolical to suggest that Harbaugh got a scolding from his superiors, especially since a league spokesman told Inman "We decline comment" when asked if Harbaugh would be fined.
But it's clear the league's leaning on coaches to keep the criticism down.
Asked if he had any follow-up to Saturday's officials, Harbaugh said "No, like I said the other night — per instruction."
Players are worried about repercussions as well. One told Inman anonymously that he was called for a penalty earlier this preseason, and when he told the official he wasn't to blame, the official said: "Maybe you weren't."
At this point, simple human compassion almost makes you want to stop banging on the replacement refs.
Almost. But they're screwing something up every single game.
Some of the issues with spots and timing and rules interpretations are one thing, but the player safety issues are real, especially when helmet-to-helmet calls aren't made (like in Pittsburgh Sunday), or plays aren't blown dead when a ball-carrier loses his helmet (such as in Friday's Miami-Carolina game).
The real officials aren't going to get them all right either, but they're going to hit for a higher average than the current crop the league has scraped from the bottom of the officiating barrel.
Via
ProFootballTalk