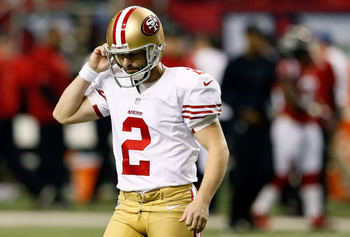 According to Matt Maiocco of CSNBayArea.com, 49ers coach Jim Harbaugh said Monday that embattled kicker David Akers would keep that job for the Super Bowl.
Akers missed a 38-yarder yesterday, and hit his only attempt in the previous playoff game against the Packers. But he was 29-of-42 in the regular season, and was shaky enough they brought in Billy Cundiff as insurance/motivation.
Given that options aren't many, pumping up Akers is probably the 49ers' best play right now.